Donetz
March (?) 1919
Description
CSRP

†

Scott

‡

SG

§

Mi
Y&T
Stamps of Ukraine surcharged
35 kopeks on 10 shahiv yellow-brown
1
49
36
70k on 50s carmine
2
50
37
70k on 50s carmine, inverted surcharge
2a
† Canadian Society of Russian Philately, see below
‡ Scott lists these as normal Ukrainian issues, Sc49-50.
§ Gibbons lists these under Russia / Civil War Issues / South Russia / Government of General Denikin, SG36-7.
The original FICC entry on South Russia cites an article by Alexander Epstein, The Postal History of South Russia 1917 - 1920 : Issues and Rates published in The Canadian Society of Russian Philately, journal, The Postrider, Issue Nr. 47, November 2000. The CSRP is no longer active but their archive has been taken over by ROSSICA and issues of Postrider are available from the University of Floida Digital Collections. Issue 47 is available here and the article covers pages 7 to 53.The portion of the article relating to Donetz is quoted in full below.
Stamp Issue for the Donets Coal Mining Area
When the German troops started io leave the Don territory and the neighbouring Donets Coal Mining area, which was a part of Ukraine, the latter turned out to be defenceless against the bands of local insurgents, "Father" (Bat'ko) Makhno as the one most well-known among them and Bolsheviks from Soviet Russia preparing to invade from the North. As a result, Pavel Skoropadskyj, the Hetman of Ukraine, who had too few troops for that purpose, made a request to General Krasnov to take this area under the protection of the Don Army. An agreement was reached and, in the second half of November, Cossack troops from the Don occupied the area with the towns of Lugansk, Yuzovka, Debaltsevo, Mariupol etc. Military governors from the Don were appointed and it was explained to the local population that it was only a temporary measure "until a permanent and universally recognized power was set up in Ukraine''. Also, the postal-telegraphic offices in this area, which were subordinate earlier to the Ekaterinoslav Postal & Telegraphic District, were now administered fiom Rostov-on-Don. Later, during January-March 1919, the northern parts of the Donets Coal Mining Area were invaded by the Red Army and a delaying action could only be fought on the Debaltsevo-Yuzovka-Popasnaya line with the help of Volunteer Army units transferred from the Northern caucasus and under the command of General Mai-Maevskii.
Under these conditions, a stamp issue appeared, which all modem catalogues ascribe to Mariupol, a seaport in the Donets Coal Mining area. The issue consists of two stamps of the definitive issue of the Ukraine in shahy, surcharged typographically in black with new face values in kopeks. However, there are serious doubts as to whether these stamps were actually a local issue made in Mariupol, so we prefer to call it the "Issue for the Donets Coal Mining Area", ordered by the Don governmental authorities and list it here. The reasons for such a decision are given hereunder.

Fig. 38
These stamps (Fig. 38) are far from being common, even in mint condition. Genuinely used copies are very scarce, to say nothing of covers, of which only a few items are known. The earliest cancellations known to me are from Mariupol, dated at the end of March 1919. However, postmarks of other towns within the Donets Coal Mining region, such as Khartsyzsk, Kramatorovka, Sartana, etc. are found as well. The most intriguing thing is that these stamps seem to have been used at the end of March or the beginning of April in the areas which were at that time under both the White and Soviet adntinistrations. There exist dangerous forgeries of these surcharges, especially of the 70 k. value.
There is a very good reason to suppose that these stamps form a common issue with the Imperial 3 k. and Kerenskii 5 k. postal stationery cards (Fig. 39), which had a primary overprint of a Ukrainian trident applied in Ekaterinoslav in July 1918 and then supplied with a secondary 15 k. surcharge. The similarity in the design of this surcharge and those on the postage stamps is striking. In the postal stationery catalogues, e.g. Michel, these postal stationery cards are usually listed under Ukraine.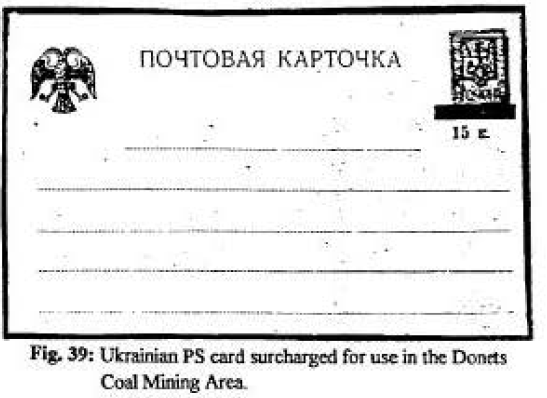 Fig. 39
It is worth mentioning also that a number of sets of stamps issued during the Civil War in Russia appeared on the philatelic markets soon after the end of that war, or even during its final years. These stamps, some of which were originally included in sucb famous stamp catalogues as Michel, Stanley Gibbons and Yvert&Tellier up to WWII, are now regarded as bogus, although some of them might have had a more subtle origin. The so-called "Novocherkassk Issue" was one of them. That set includes imperforate Imperial Arms stamps surcharged "25" on the 1 & 2 k., "50" on the 3 & 5 k. and "1 P" (two types) on the 3 k. (fig. 40).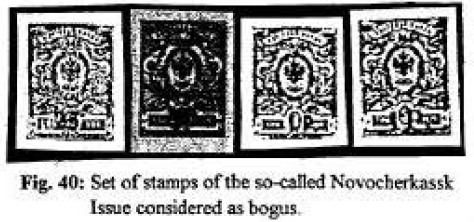 Fig. 40
Little is known about their true origin and no genuinely used stamps have been found. Some Soviet sources ascribe these stamps to a gang of forgers from Novocherkassk (hence the designation of the set), two members of which, Lamtev and Popov, were convicted in 1924. Actually, they did forge overprints of the legal Kuban and Don overprints, as well as Ukrainian tridents. However, the same Lamtev, a notable stamp collector and journal editor at the same time, treats this set in an earlier article [see N. Lamtev. Pochtovye Yugo-Vostoka Rossii Russkii Kollektsioner, 1922, Nos 3-4, 2-3.] as a bogus issue, thus proving that he was not implicated in that affair. On the other hand, these stamps are often found signed by Trachtenberg, a stamp dealer with a shady reputation and who resided in Odessa during 1918-19. The fact that each of these stamps has a great number of varieties, including double and inverted surcharges (completely or only the "5" of the "25"' figures), does raise suspicion, but the quite legal Kuban and Don territory issues also have a lot of such varieties as well. Moreover, the face values of these surcharges comply with the postal rates in force in South Russia and Ukraine at the end of 1918. Therefore, a possibility cannot be excluded that this set was actually prepared for issue by some South Russian postal authorities, but by either reason not released for counter sale and later sold in ggross to Trachtenberg.