German Offices Abroad
Offices abroad are sometimes dealt with on the detail page of the country where the office is located, sometimes on the page of the country operating the office and sometimes on a separate page such as this. The decision is a pragmatic one, largely based on the number of offices involved.
See also British Offices - French Offices - Italian Offices - Spanish Offices
China - Kiauchau - Morocco - Turkey -
German Offices in Turkey
1884 Sc1 SG1 FICC#216
Turkey
Germany opened a postal agency in Constantinople in March 1870, followed by offices in Jaffa, Beirut, Jerusalem and Smyrna. At first these used unaltered German stamps, identifiable only by cancellation, and these are prefixed "Z" in Gibbons [1]. From 1884, surcharged German stamps were used. The first set comprised values from 10 paras to 2½ piasters, numbered Sc1-6, SG1-8. Sc1-3 are shown.
---
| | |
| --- | --- |
| | |
| 56° | 48° |
| 1898 Sc1a SG7a | 1898 Sc6a SG6 |
China
German stamps of 1889-90 overprinted in black. There are two versions of the overprint and a full table is needed to capture the catalogue differences.
Description
Scott
SG
Mi
Y&T
December 1898 Stamps of Germany overprinted at 56°
3 pfennigs dark brown
1
7
3pf yellow brown
1a
7a
3pf reddish ochre
1b
7b
5pf green
2
8
10pf carmine
3
9
20pf ultra
4
10
25pf orange
5
11
50pf red-brown
6
12
March-June 1898 Stamps of Germany overprinted at 48°
3pf yellow brown
1c
1
3pf reddish ochre
1d
3pf grey-brown
1e
1a
5pf green
2a
2
10pf carmine
3a
3
20pf ultra
4a
4
25pf orange
5a
5
50pf red-brown
6a
6
---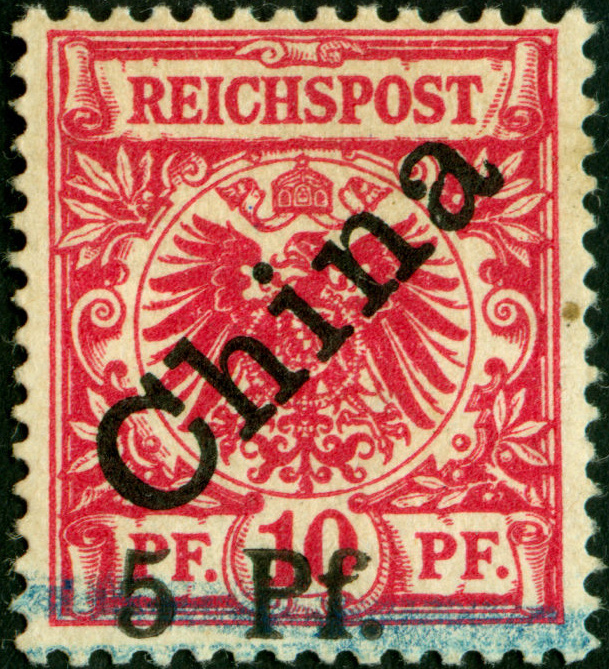 1900 Sc5SG8a
Kiauchau (Kiaochow)
As an additional complication, Germany opened an office in Kiauchau using the German stamps overprinted for China with an additions surcharge overprint.. The Scott listing is far more complicated than Gibbons, taking the underlying different angles of overprint with five different versions of the 5 pfennig (5 Pfg or 5 Pf) surcharge.
All the 1900 issues (Sc1-9 with many variants) are 5pf surcharges on the 10pf China overprint. A representative example is shown. Some of the variants are very expensive and that would encourage forgeries: the Sc5 stamp shown catalogues for more than $2,000 (2009) and was selling on ebay with an authentification certificate from Ronald F. Steuer.