New Zealand
Wednesday, July 18, 1855
Imperforate, star watermark, engraved.
Description
# printed
Scott
SG
Mi
Y&T
London print. White paper.

1 penny dull carmine

12,000
1
1

2 pence deep blue

66,000
2
2

1 shilling yellow green

8,000
3
3

Auckland, New Zealand, print. No watermark, blued paper

November - December 1855

1 penny orange

29,016
4
3b

1 penny red

4

1856

2 pence deep blue

?
5
5

1 shilling yellow green

?
6
6
All issue quantities are approximate.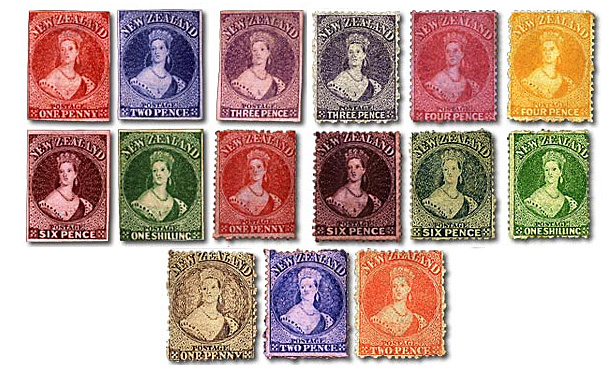 New Zealand full face Chalon Heads
The first stamps were printed in London, England and shipped along with the plates, such that production could be continued in New Zealand. The blueing of the paper on the London print is due to a chemical reaction between the paper and the ink. The one penny was not affected by this.
Sources:
James Mackay, The World of Classic Stamps, 1972
Gibbons Commonwealth and British Empire Stamps 1840-52, 106th edn., 2003
Image from Mackay, David Olson and New Zealand Post.
| | |
| --- | --- |
| FI ref: 57 | Page credit: JA/NB |
| | |
| --- | --- |
| Page created 19 Feb 2014 | Page updated 18-Aug-2017 |