Oceanic Settlements
1st November 1892
and French Polynesia
22nd October 1956
‡
| | | |
| --- | --- | --- |
| | | |
| | Oceanic Settlements | |
| | 1892-1907 Sc1-5, 7-8, 12, 20 | xxx |
Description
Date

†

Scott
SG
Mi
Y&T
French Oceanic Settlements
1 centime black, azure
1
1
2c brown, buff
2
2
4c claret, lavender
3
3
5c green, greenish
4
4
5c yellow green
1906
5
14
10c black, lavender
6
5
10c red
1900
7
15
15c blue, quadrille paper
8
6
15c grey, light grey
1900
9
16
20c red, green
10
7
25c black, rose
11
8
25c blue
1900
12
17
30c brown, bister
13
9
35c black, yellow
1906
14
18
40c red, straw
15
10
45c black, grey-green
1907
16
19
50c carmine, rose
17
11
50c brown, azure
1900
18
20
75c deep violet, orange
19
12
1 franc bronze-green, straw
20
13
† date, where not 1892.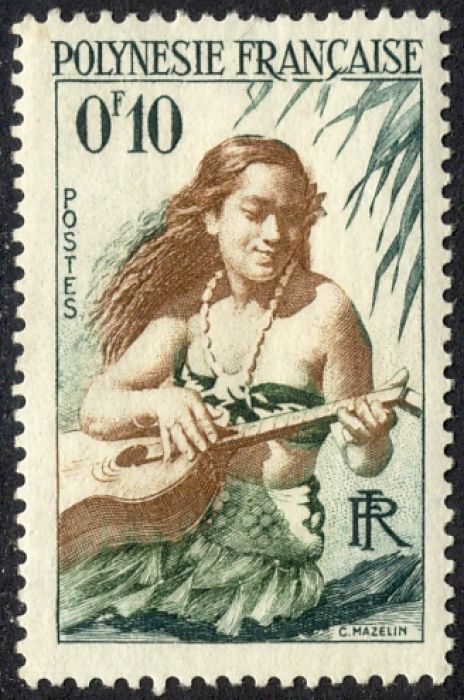 French Polynesia
Nov 1958 Sc182 SG1
French Polynesia (or French Oceania) is a group of islands in the South Pacific. The largest is Tahiti, though this issued its own stamps from 1882 until 1915. In 1903 Tahiti joined the other constituents to form French Oceanic Settlements. In 1957 they were renamed French Polynesia and in 1958 the inhabitants voted to become and Overseas Territory of the French Republic.
‡ The FICC catalogue dates the beginning of French Polynesia as 22nd October 1956, the issue date of Sc181, SG215, but the first stamp inscribed with the new name is the November 1958 issue shown.