Thrace
1913
Issues for Dedeagatz

Issues for Gumultsina

1913 Greek Occ Turkey Sc-N179
Thrace SG1
1913 Sc1 SG1
xxx
Description
Gibbons
Scott
A. Greek Occupation, 1913
Issues for Dedeagatz
SG1-22
Greece / Occupation of Turkey / Dedeagatch Sc-N179 - N201
Issues for Gumultsina
SG1-4
Sc1-4
B. Autonomous Govt. of Western Thrace
SG1-27
Sc5-33
C. Allied Occupation

†

SG28-55
Sc-N21-N25
D. Greek Occupation, 1920
SG61-111
Sc-N26-N54, Western Thrace
Sc-N55-N84, Eastern and Western Thrace
Thrace is treated very differently in Scott and Gibbons, as shown in the table, although both begin in 1913. The "first #1s" of both catalogues are shown above and the first issue of the remaining Thrace categories are shown below.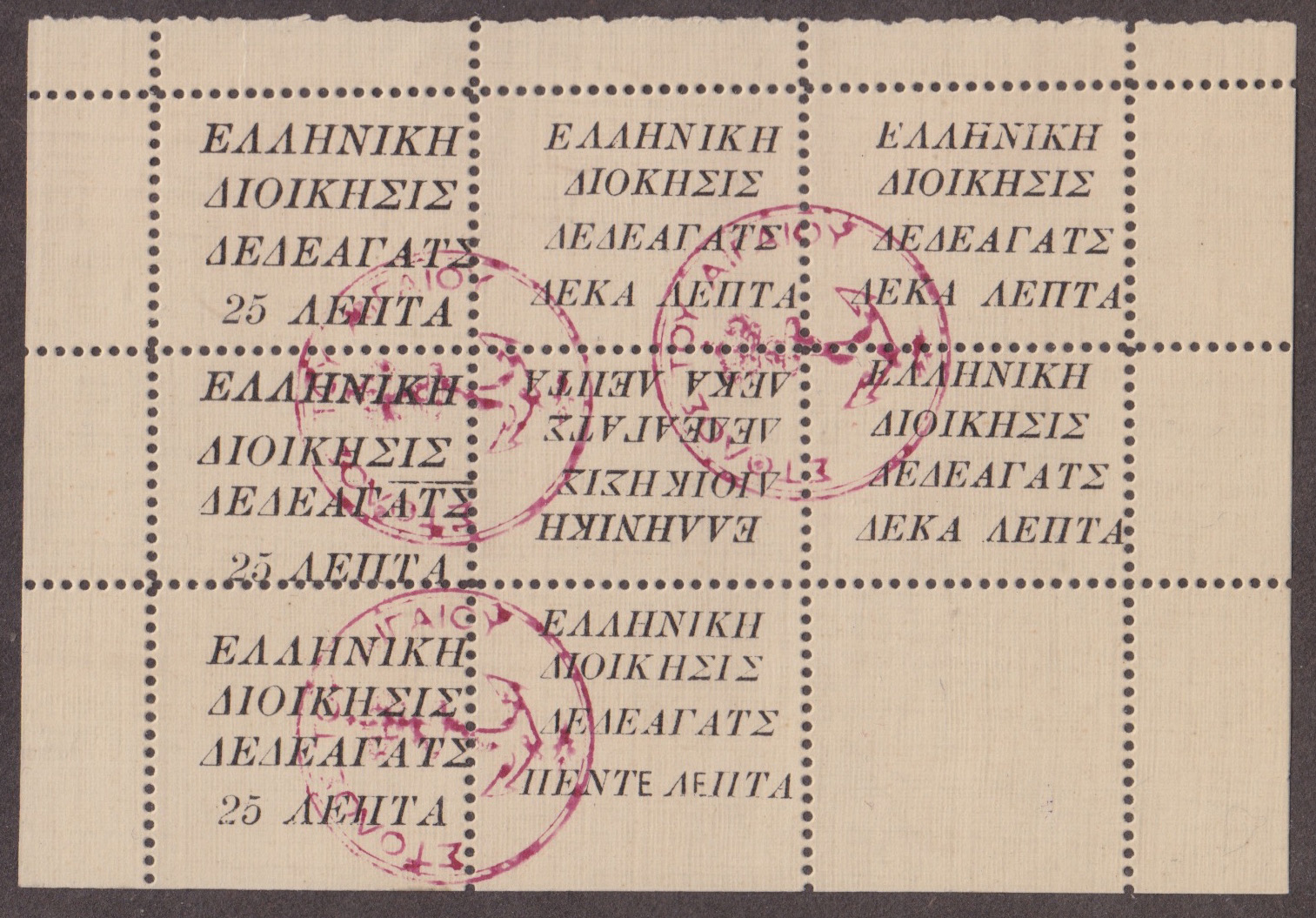 Dedeagatch Sc179-181
Scott [1] notes, "Nos. N179-N181 issued without gum in sheets of 8, consisting of one 5 lepta, three 10l normal, one 10l inverted, three 25l and one blank. The sheet yields se-tenant pairs of 5l & 10l, 10l & 25l; tête beche pairs of 5l & 10l, 10l & 25l and 10l & 10l. Also issued imperf."
As regards its history, Thrace was another of the entities with an ancient pedigree that (in philatelic and modern geopolitical terms) arose from the Balkan Wars and WW1. The territory was divided between Greece, Turkey and Bulgaria in 1920 under the Treaty of Sèvres.
| | | | |
| --- | --- | --- | --- |
| | | | |
| Western Thrace | | Greek Occupation, W. Thrace | Greek Occupation, E. & W. Thrace |
| 1913 Sc5 SG1 | 1919 Sc-N21 SG40 | 1920 Sc-N26 SG61 | 1920 Sc-N55 SG93 |
†There were various formats of this overprint. Scott starts with a single line diagonal, Gibbons with a two-line horizontal. The Scott is shown.