Iraq
formerly Mesopotamia
1st June 1923
perf 12, wmk multiple script "CA", engraved
Description
Scott
SG

‡

Mi
Y&T
Notes
½ anna olive green
1
41
1a brown
2
42
1½a carmine lake
3
43
2a brown orange
4
44
3a deep blue
5
45
4a dull violet
6
46
6a blue-green
7
47
8a olive bister
8
48
1 rupee green and brown
9
49
2r black
10
50
2r bister
11
51
issued 1925
5r orange
12
52
10r carmine
13
53
image

image

British Occupation, Issues for Baghdad

British Occupation, Issues for Mosul

British Occupation, Issues for Iraq

1917 FICC #465
Mesopotamia Sc-N1
Iraq SG1

◊

1919 Mesopotamia Sc-N42
Iraq SG1
1918 Mesopotamia Sc-N50
Iraq SG1

League of Nations Mandate

Republic

1923 Sc1 SG41
1932 Sc28

§

SG106
1958 Sc188 SG418
Iraq, Phases
Gibbons

SG

Date

Scott

Sc

Iraq
Mesopotamia
- British Occupation, Issues for Baghdad

1-25

1917

- Baghdad Issue

N1-N27

- British Occupation, Issues for Mosul

1-8

1919

- Mosul Issue

N42-49

- British Occupation, Issues for Iraq

1-18

1918

- Iraq Issue

N28-N41, N50-53

Iraq
- League of Nations Mandate

41-138

1923-32

- British Mandate

1-27

- Independent Kingdom

†

172-417

1934-58

- Kingdom (1932)

28-187

- Republic

418+

1958+

- Republic

188+
Walker (see Syria) writes, " IRAQ, ignoring Saddam Hussein, went from being a British mandate (#1) to a Kingdom (#28), to a Republic (#188). You might also want to include the Mesopotamia occupation issue (#N1) in the lraq section. "
‡Scott [1] begins Iraq in 1923 with the stamps issued under the League of Nations mandate of 1920. The separate listing for Mesopotamia are all treated as occupation issues with an "N" prefix. Gibbons [2] lists both phases under Iraq. † The catalogues also differ on the issue denoting the Independent Kingdom: Scott 1932 Sc28§ SG106; Gibbons 1934 Sc61 SG172, although Gibbons does note, "[the] British Mandate was given up on 3 October 1932 and Iraq became an independent Kingdom."
◊ The first issue of this set for both Scott and Gibbons is the ¼ anna on 2 piastres claret, a vertical stamp, not the horizontal ¼ anna on 5p violet-brown that seems to be much more readily available.
§ Sc28 is the 2 fils on ½ anna overprinted in red.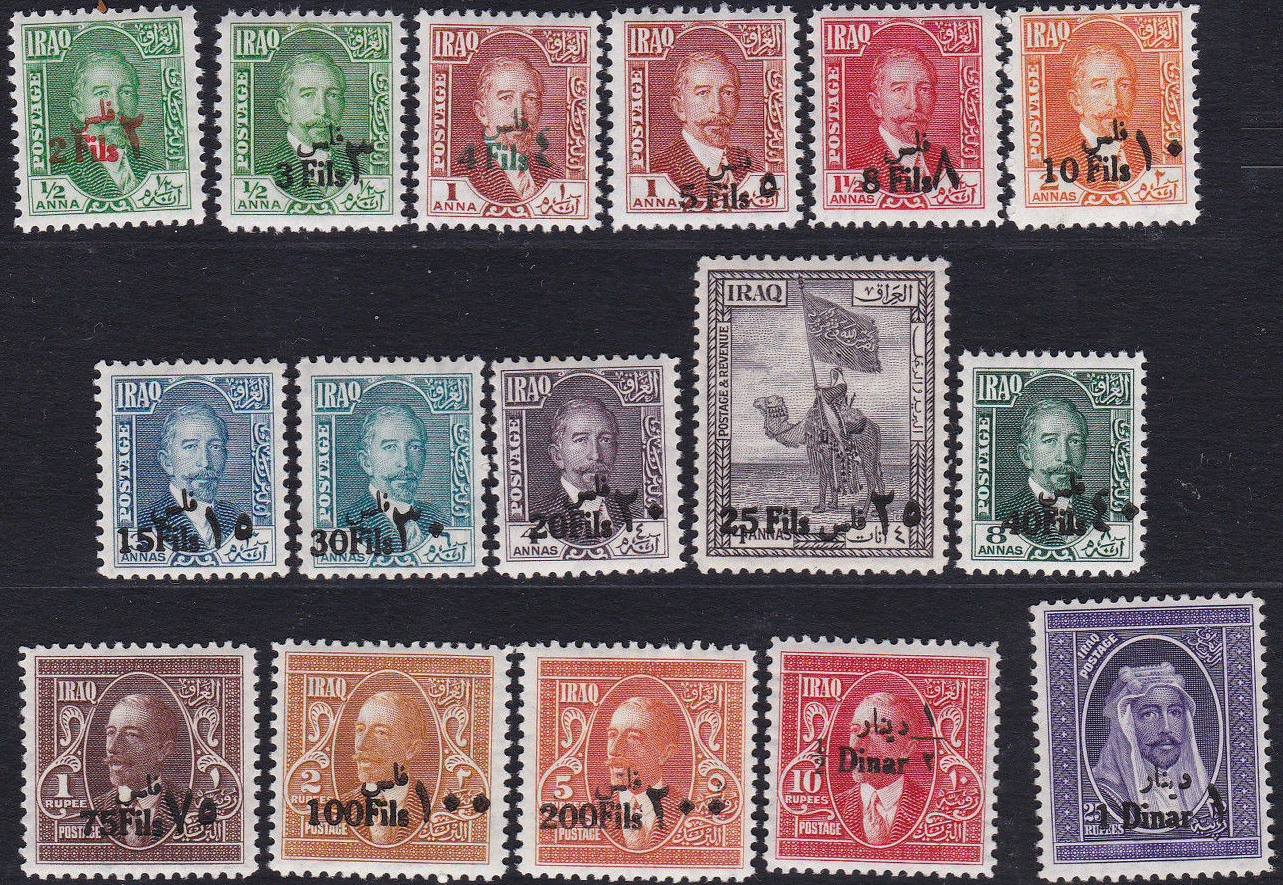 The image of the Sc28 above was taken from this full set (excluding variants) of the overprints selling on ebay for $999.
1932 Sc28-43 SG106-121