Jordan
November 1920
The overprint reads "East of Jordan".
Description
Scott
SG
Mi
Y&T
Palestine overprints
1 milliemme dark brown
1
1
other values 2m to 20 piastres
2-11
1-19

†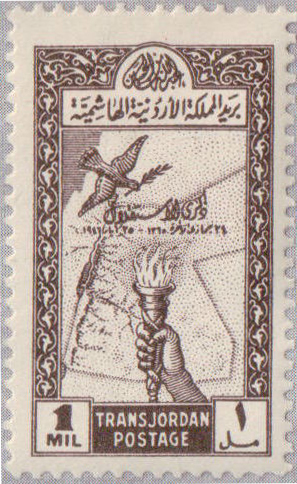 Independent Kingdon
1946 Sc221 SG249
† The stamps are either perf 14 of perf 15x14. Gibbons has SG1-8 as perf 15x14 and SG9-19 as perf 14, while Scott liststhem sequentially by value and designates the perf 14 as Sc#a.
Floyd A. Walker (see Syria) writes, " JORDAN went from being a British Mandate (#1) to a kingdom (#221) and has remained mercifully stable. "
---
Occupation of Palestine
1948 Sc-N1 SG-P1
Occupation
Gibbons [1] states, "On the day after the proclamation of the state of Israel on 14 May 1948, Transjordan troops (the Arab Legion) crossed the Jordan into Palestine and, before the armistice of 3 April 1949 were able to take and hold the Old City of Jerusalem [and other areas] … The occupied areas were incorporated into the Kingdom … after which the stamps of Jordan were used]. In the Six Day War … all this territory was lost by Jordan and it has since been administered by Israel.