Marshall Islands
28th May 1897
perf 13½x14½, no wmk
Description
Date

†

Scott
SG
Mi
Y&T
Stamps of Germany overprinted ""Marschall-Inseln" in black

§

3 pfennigs dark brown
1899
1
G1
3pf light brown
1a
G1a
5pf green
1899
2
G2
10pf carmine
3
G3
20pf ultra
4
G4
25pf orange

‡

5
50pf red-brown

‡

6
† Scott [1] dates all of the first set to 1897. Gibbons [2] does nott
‡ Scott states that Sc5 and Sc6 were not issued, although some are known cancelled. Gibbons does not list them.
§ A second set of the same values was issued in 1899-1900 overprinted "Marshall-Inseln", i.e. without the "c".
A group of islands in the Pacific Ocean. They became a German protectorate in 1885, then were under Japanese control from 1920 until 1947 when they became a United States Trust Territory.
They began to issue their own stamps in 1984.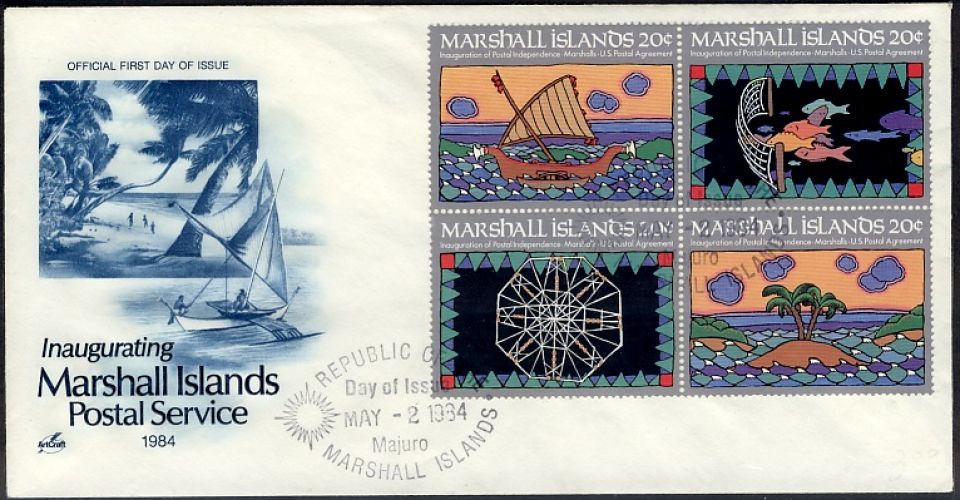 Republic
1984 Sc31-34 SG1-4