Togo
June 1897
Description
Date
Scott
SG
Mi

†

Y&T
German Protectorate, German overprints
3 pfennigs dark brown
1899
1
G1
1a
1
3pf yellow brown
mid 1898
1a
G1a
1b
3pf reddish brown
mid 1898
1b
G1B
1c
3pf pale gray-brown
Sep 1897
1c
1d
5pf green
1897
2
G2
2
10pf carmine
1897
3
G3
3
20pf ultra
1897
4
G4
4
25pf orange
1898
5
G5
5
50pf red-brown
1898
6
G6
6
French Occupation, surcharges or overprints of German Togo "Yacht" issue

‡

5 centimes on 3pf brown
1914
151
1
other surcharges, 5c and 10c
1914
152-156
2
other overprints 20pf to 80pf
1914
158-162
3-7
British Protectorate, surcharges or overprints of German Togo "Yacht" issue

‡

½d on 3pf brown
Oct 1914
33
H12
1 penny on 5pf
1914
34
H13
overprints 3pf to 2 marks
1914
35-45
H14-28
† Michel also lists bright ochre (Mi1e, 1898) and bright orange-brown (Mi1f, 1899)
‡ Both Scott and Gibbons distinguish multiple fonts for the French and British surcharges. Listing and matching these is outside the scope of this exercise.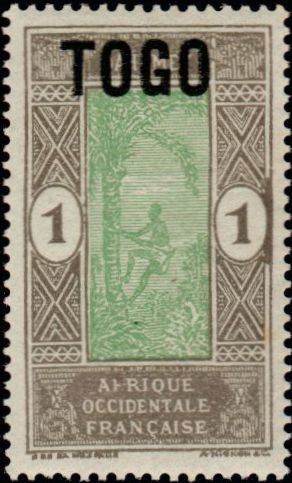 French mandate
1921 Sc193 SG37
Louis Laflamme (FICC#210) wrote extensively on the various Togo #1s in FICC Journal v20n1p7. Most of the text and the illustrations are taken from that article.
Germany first established its Protectorate in Togo in 1884 and post offices from 1888, identifiable by postmark. Specific stamps were issued from 1897, although the catalogues disagree on the months. Louis notes that Michel differentiates more shades on the #1 than does Scott [or Gibbons].
During WW1, French troops invaded Togo from Dahomey and British troops from the Gold Coast in early August 1914 and German forces had surrendered by the end of the month. Togo remained anger Anglo-French military occupation (occupying the west and east respectively) until 1919.
After WW1 Togo became a League of Nations mandate administered by Britain and France. British Togoland first used used Gold Coast stamps. The French mandate began with Dahomey overprints and used the stamps of French West Africa during WW2.