Saint Pierre & Miquelon
5th January 1885
Sc4-8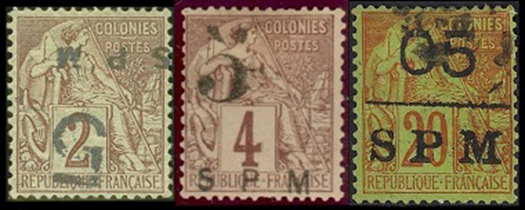 Sc9-11
Description
Scott#
SG#
Mi#
Y&T#
Surcharges of French Colonies, general issues
No wmk, imperf, handstamp Gothic surcharge in black
05 centimes on 40c vermilion, straw
1
5
5
10c on 40c vermilion, straw
2
6
6
15c on 40c vermilion, straw
3
7
7
No wmk, imperf, handstamp surcharge in black
05c on 35c black, yellow
4
9
05c on 75c carmine, rose
5
10
05c on 1 franc bronze-green, straw
6
11
25c on 1 franc bronze-green, straw
7
2
25c on 1 franc bronze-green, straw
8
3
Perf 14x13½
5c on 2c brown, buff (s/c inverted)
9
1
1
5c on 4c claret, lavender
10
4
5c on 20c red, green
11
8
There was an article on Saint-Pierre and Miquelon (SP&M) in volume 16 no. 3 of the FICC Journal by Louis Laflamme (FICC #210), summarised below.
SP&M, a group of small islands, is the last remnant of what were once vast territories controlled by France in North America. Distinct philately began in January 1885 when the Commandant of the Islands ordered the printing bureau to surcharge some of the 2-centime General Colonies stamps because of a shortage of 5-centime stamps needed for local mail. The surcharge consisted of a large "5" with smaller "spm" below in black and was always applied inverted (reason unknown), this first stamp is Sc #9, Yvert&Tellier #1, Gibbons #1. The first surcharges were applied on January 7, 1885 and produced 1547 copies. A second issue of 300 stamps on March 9 of the same year had a finer surcharge with more intense black ink.
Sc #9 is very rare, about 80 copies of the 2 issues are thought to have survived, most are used. A few copies were reprinted for collectors probably in late 1885, and these reprints are also very rare but easy to identify because the colour of the 2 c. had changed from lilac-brown to a more yellowish brown.
Sc #1-3, known as the gothic surcharges (Y&T #5-7, SG5-7) were issued later in 1885 when new 5c. were needed along with 10c. and 15c. denominations for mail between islands. Sc #2 and 3 were issued first in October 1885 (11,250 stamps each). Sc #1 was issued December 16-17, 1885 (6750 stamps).
1999 Sc682a

In 1999, SPM issued a stamp to celebrate the 150th anniversary of the first French stamp. It featured the first stamps of France and SP&M along with the first stamp specifically designed for SP&M. The 1999 stamp is part of a miniature sheet featuring SP&M's stamp history.
They continue to issue their own stamps.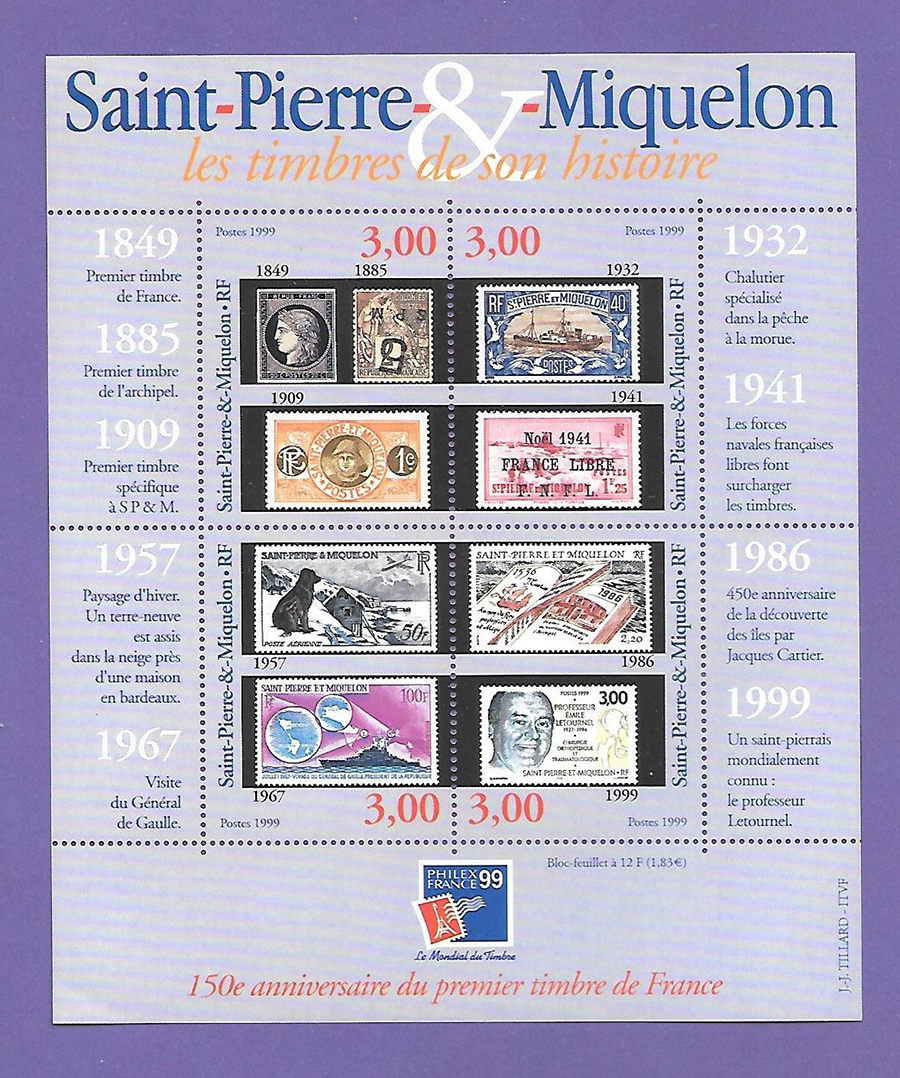 1999 miniature sheet
Sc682