British South Africa Company
British Central Africa
Federation of Rhodesia and Nyasaland
Date: 20th July 1891
perf 14, no wmk
† Scott [1] lists the BCA overprints as a separate entry under British Central Africa Sc1-Sc73. Gibbons [2] as the beginning of Nyasaland SG1-SG71.
‡ Scott lists the BSACo issues under Rhodesia Sc1-Sc81, as does Gibbons SG1-99.
Description
Scott
SG
Mi
Y&T
British South Africa Company overprints
1 penny black
1
1
other values 2d to £10
2-17
2-17
The British South Africa Company administered the territory which eventually became Malawi, Zambia and Zimbabwe. The first stamp actually inscribed Rhodesia was a 1905 BSA Co. overprint.
Wood's This is Philately ([3] 1982, vols 2 and 3) explains this elegantly and it is also helpfully depicted in StampWorldHistory. In summary,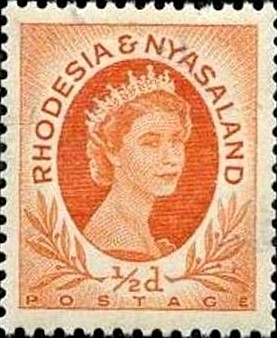 Rhodesia and Nyasaland
1954 Sc141

§

SG1 FICC#642
Malawi - formerly British Central Africa, administered by the British South Africa Company, in 1907 it became the Nyasaland Protectorate until it joined the Federation of Rhodesia and Nyasaland in 1954. After the Federation broke up in 1963, it became the independent state of Malawi.
Zambia - administered by the British South Africa Company from 1889 to 1924, the area was divided into Northern and a separate Southern Rhodesia until 1954 when they both joined Rhodesia and Nyasaland until 1963. In October 1964 it became an independent republic within the commonwealth as Zambia.
Zimbabwe - under the British South Africa Company until 1924, Southern Rhodesia until 1965 and then just Rhodesia. In 1965, the (white) prime minister declared independence but this was not recognised by Britain (nor by the US or the UN). After "a period of unrest and virtual civil war", free elections were held and in April 1980 it became the independent nation of Zimbabwe.
§ While Gibbons starts again at #1 for the Federation, Scott lists under Rhodesia:
1-81 British South Africa Company
82-140 Rhodesia
141-190 Rhodesia and Nyasaland