Karelia
31st January 1922
†
perf 11½, 12, no wmk, litho
Printed by F. Tilgmann & Co. Helsinki
| Description | | Scott | SG | Mi | Y&T | |
| --- | --- | --- | --- | --- | --- | --- |
| 5 pennia dark grey | | 1 | 1 | | | |
| 10p light blue | | 2 | 2 | | | |
| 20p rose red | | 3 | 3 | | | |
| 25p yellow brown | | 4 | 4 | | | |
| 40p magenta | | 5 | 5 | | | |
| 50p grey green | | 6 | 6 | | | |
| 75p orange yellow | | 7 | 7 | | | |
| 1 markka pink and grey | | 8 | 8 | | | |
| 2m yellow-green and grey | | 9 | 9 | | | |
| 3m light blueand grey | | 10 | 10 | | | |
| 5m red-lilac and grey | | 11 | 11 | | | |
| 10m light brown and grey | | 12 | 12 | | | |
| 15m green and carmine | | 13 | 13 | | | |
| 20m rose and green | | 14 | 14 | | | |
| 25m yellow and blue | | 15 | 15 | | | |
Scott [1] notes that "conterfeits abound".
† Scott does not date the issue within 1922, but Gibbons [2] specifies 31st January.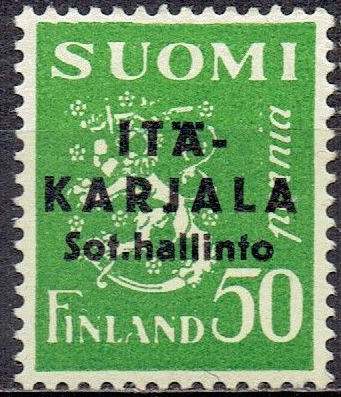 Eastern Karelia, Finnish Occupation
1941 Sc-N1 SG1
Northern Karelia, bordering on Finland declared its independence from Russia in October 1921 and enjoyed a single issue of stamps before being reabsorbed in 1923. Karelia became an autonomous Soviet republic in July 1923.
The stamps only had limited use and remaining stocks were cancelled to order.
There was an issue for Eastern Karelia during WW2 inscribed 'ITA-KARJALA' which Gibbons lists as Russia, Finnish Occupation.