Straits Settlements
1st September 1867
incl. Malacca and Penang, 1948
perf 14, elephant's head wmk, print
Printed by De La Rue
Description
Indian stamp
Overprint colour
Scott#
SG#
Mi#
Y&T#
Indian stamps overprinted
1½ cents on ½ anna blue

Sc20 SG54

red

1
1
2c on 1a brown

Sc22 SG59

red

2
2
3c on 1a brown

Sc22 SG59

blue

3
3
4c on 1a brown

Sc22 SG59

black

4
4
6c on 2a yellow

Sc23a SG61

purple

5
5
8c on 2a yellow

Sc23a SG61

green

6
6
12c on 4a green

Sc24 SG69

red

7
7
24c on 8a rose

Sc25 SG73

blue

8
8
32c on 2a yellow

Sc23a SG61

black

9
9
| Description | date issued | | Scott# | SG# | Mi# | Y&T# |
| --- | --- | --- | --- | --- | --- | --- |
| 2c brown | June 1868 | | 10 | 11 | | |
| 2c yellow-brown | | | 10a | 11a | | |
| 2c deep brown | | | 10b | 11b | | |
| 4c rose | July 1868 | | 11 | 12 | | |
| 4c deep rose | | | 11a | 12a | | |
| 6c dull lilac | January 1868 | | 12 | 13 | | |
| 6c bright lilac | | | 12a | 13a | | |
| 8c orange-yellow | December 1867 | | 13 | 14 | | |
| 8c orange | | | 13a | 14a | | |
| 12c blue | December 1867 | | 14 | 15 | | |
| 12c ultramarine | | | 14a | 15a | | |
| 24c blue-green | December 1867 | | 15 | 16 | | |
| 24c yellow-green | | | 15a | 16a | | |
| 30c claret | December 1872 | | 16 | 17 | | |
| 32c pale red | December 1867 | | 17 | 18 | | |
| 96c grey | June 1871 | | 18 | 19 | | |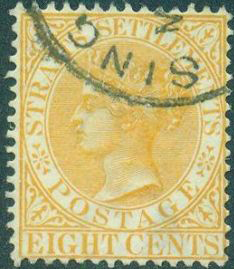 Sc13 SG14
Mackay [1] notes, " The Straits Settlements (Singapore, Malacca and Penang) had formed part of the Indian postal administration until September 1867 and accordingly used Indian stamps. When the administration was separated, Indian stamps surcharged in Straits cents were used pending the supply of distinctive stamps by De La Rue in December in the same year." The Cocos (Keeling) Islands were transferred to Straits Settlements on 7th February 1886. Labuan was attached to the colony in 1896 and became the fourth Settlement in 1906 but was transferred to North Borneo in 1946.
---
Changes of Administration
Japanese Occupation

Occupation handstamp

British Military Administration

Malacca

Penang

1942 ScN1
Malaya SG-J92
1945 Sc256 SG1
1948 Sc1 SG1
1948 Sc1 SG1
The Straits Setlements were occupied by the Japanese in 1942 and after WW2 British Military Administration (BMA) stamps were used. In 1946 Singapore became a separate Crown Colony and Labuan transfered to North Borneo. Separate stamps were issued for Malacca and Penang and they both joined the Malayan Federation on 1st February 1948.